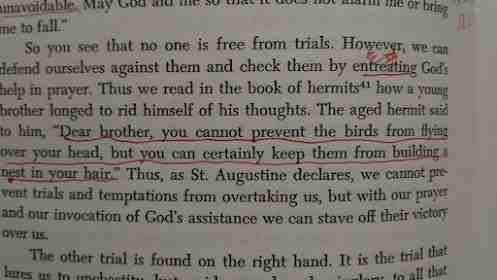 精彩例證得來不易,值得千古流傳。
二十來歲剛信主的時候,在團契的輔導講道中聽過這個例子,當時只覺得這比喻真妙:「你無法阻止飛鳥從頭上飛過,但是可以阻止牠在你的頭髮上做窩」。
當了傳道人之後也在講道中引用過這個逃避試探的老梗。後來我稍微多讀幾本書,才知道這是馬丁路德說過的。
某天,在圖書館翻到路德的"An Exposition of the Lord's Prayer for Simple Laymen"(Luther's Works, Vol.42),在The Sixer Petition處他說:
So you see that no one is free from trials. However, we can defend ourselves against them and check them by entreating God's help in prayer. Thus we read in the book of hermits how a young brother longed to rid himself of his thoughts. The aged hermit said to him, "Dear brother, you cannot prevent the birds from flying over your head, but you can certainly keep them from building a nest in your hair." Thus, as St. Augustine declares, we cannot prevent trials and temptations from overtaking us, but with our prayer and our invocation of God's assistance we can stave off their victory over us.
Luther's Work的編輯在"the book of hermits"處下了個Footnote,說此句出自St. Jeremy。於是真相大白了。原來路德自己也不是原創,他引用了耶柔米(340-420),而且耶柔米可能也是聽別人說的。想不到一個小小的講道例證,至少有1500年的傳承哪 !
另外,在創世紀講義(Luther's Works Vol.06)解釋(創32:24)處,路德又再引用了一次。他是有多愛這梗啊?
Like my work?
Don't forget to support or like, so I know you are with me..