Matters.News Supports Wallet Registration and Login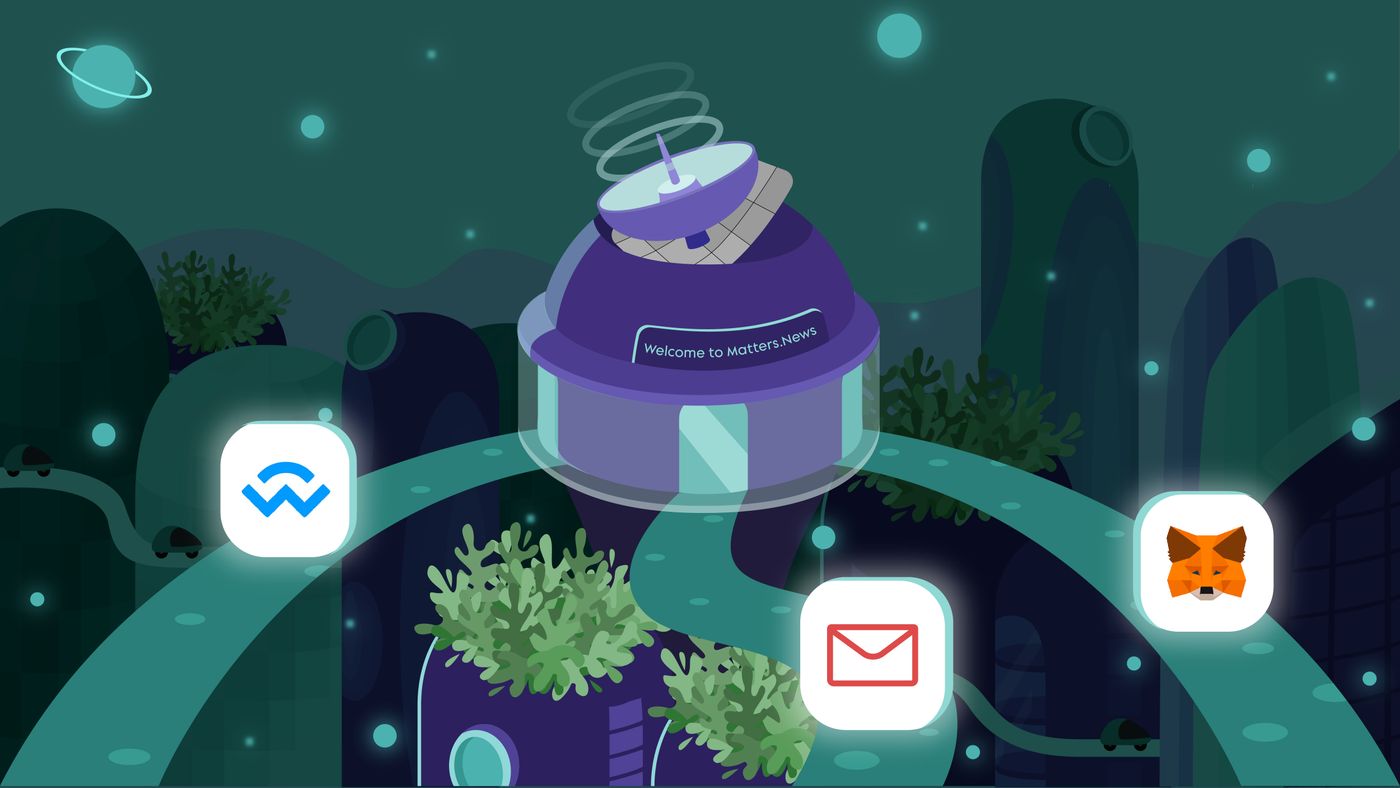 You must have an encrypted wallet if you're jumping into the Web3 world. Matters. News now is supporting wallet registration and login!
If you already are a Matters.News user, you can log in with your email, connect your account to your wallet, and enjoy Matters' Web3 experiments.
If you haven't signed up for Matters.News yet, you can register with your wallet. We support both MetaMask and WalletConnect. There is also an option for email registration for Web 2 users.
For a Matters.News user:
**Please note the following points before proceeding**

For security reasons, you will not be able to reset the encrypted wallet after the connection. If you have several addresses, please confirm the correct one before connecting.
If you have participated in the Airdrop of Traveloggers and connected your wallet, you also need to follow the instructions below to go through the connecting process.
If you are a Traveloggers holder and want to display your "Orange Book "and badges in your Matters.News account, please use the wallet that holds Traveloggers to connect or transfer the NFT to the connected wallet address. Once completed, your personal page and avatar will display relevant badges and decorations.
Registered users who want to log in with a wallet should first login to Matters.News using their email address, and then you have two ways to connect the wallet:
The top right button on the home page will show a "Connect Wallet."

2. Or, from My-->Settings, you will see "Connect Wallet".

Select one of the entrances, and you will see the following screens.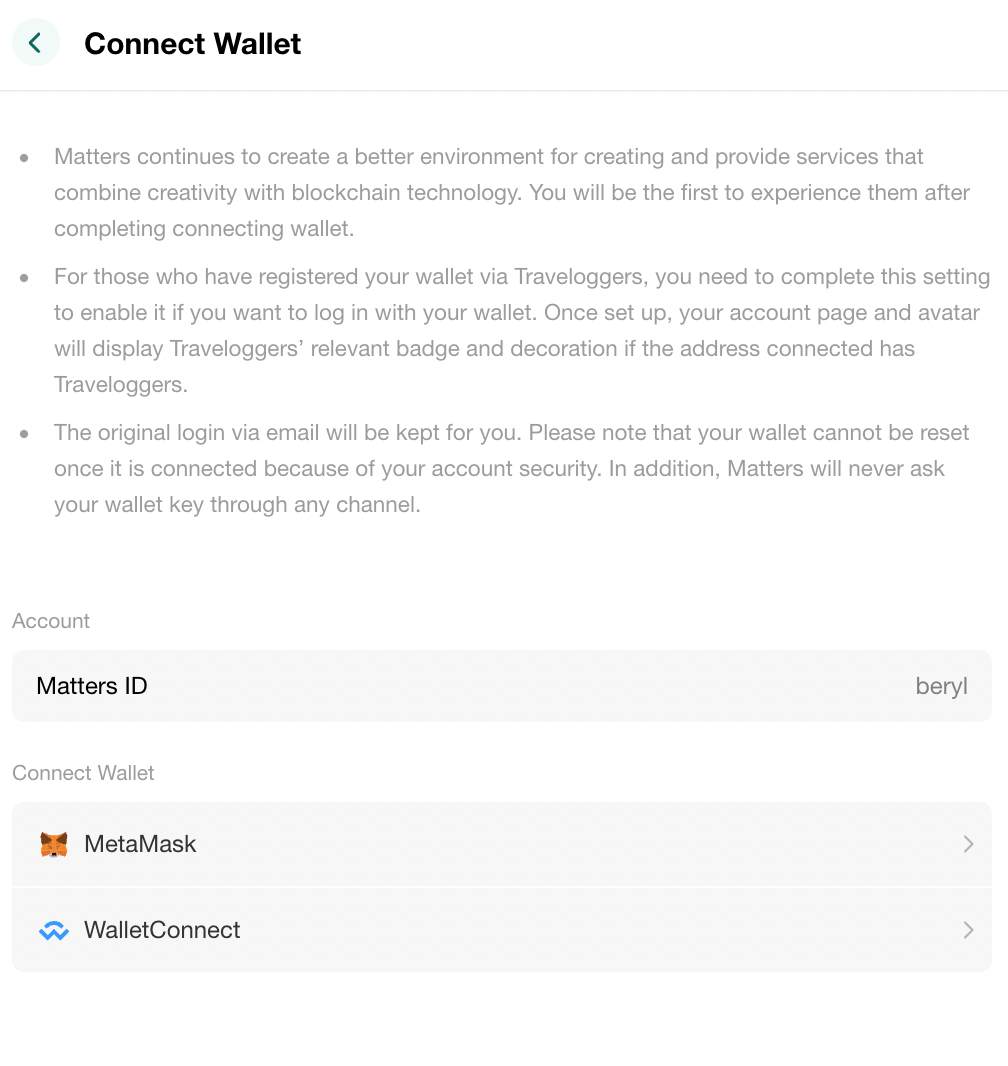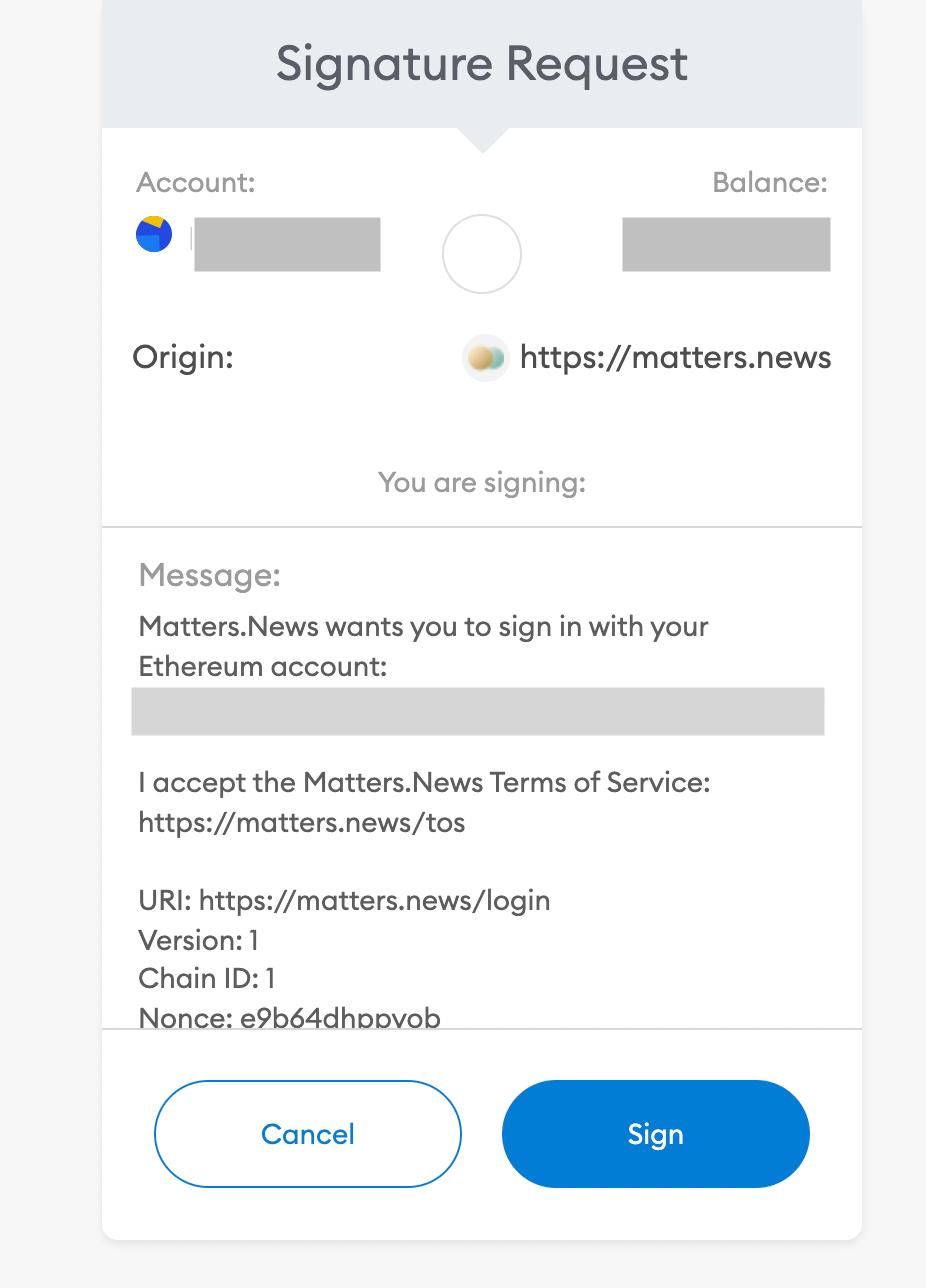 Connect your wallet (please confirm the address and connection status of the wallet you want to use) and click Connect.

Once the connection is done, you will see the following window, click "Next," and you will be successfully logged into Matters.News!
Once you have finished, if the address you set has Traveloggers, your page and avatar will display the relevant badges and decorations. Please protect your account password and wallet key. Matters will never ask for your password and any keys.
After connecting your Matters.News account to your wallet, you can still use your original email to log in.
2. You are not yet a Matters.News user and want to sign up with a wallet
Those who haven't registered yet can now register with Matters.News through an encrypted wallet, which currently supports MetaMask and WalletConnect.
Select "Connect Wallet" on the webpage.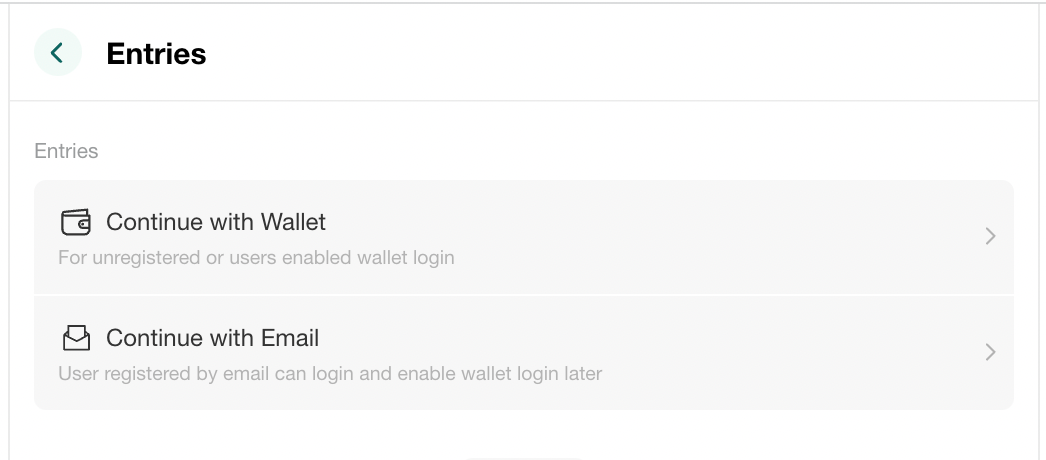 The following screenz will appear.
Please fill in your email address and verification code and connect your wallet. Matters is actively exploring ways to connect with you without needing a mailbox easily.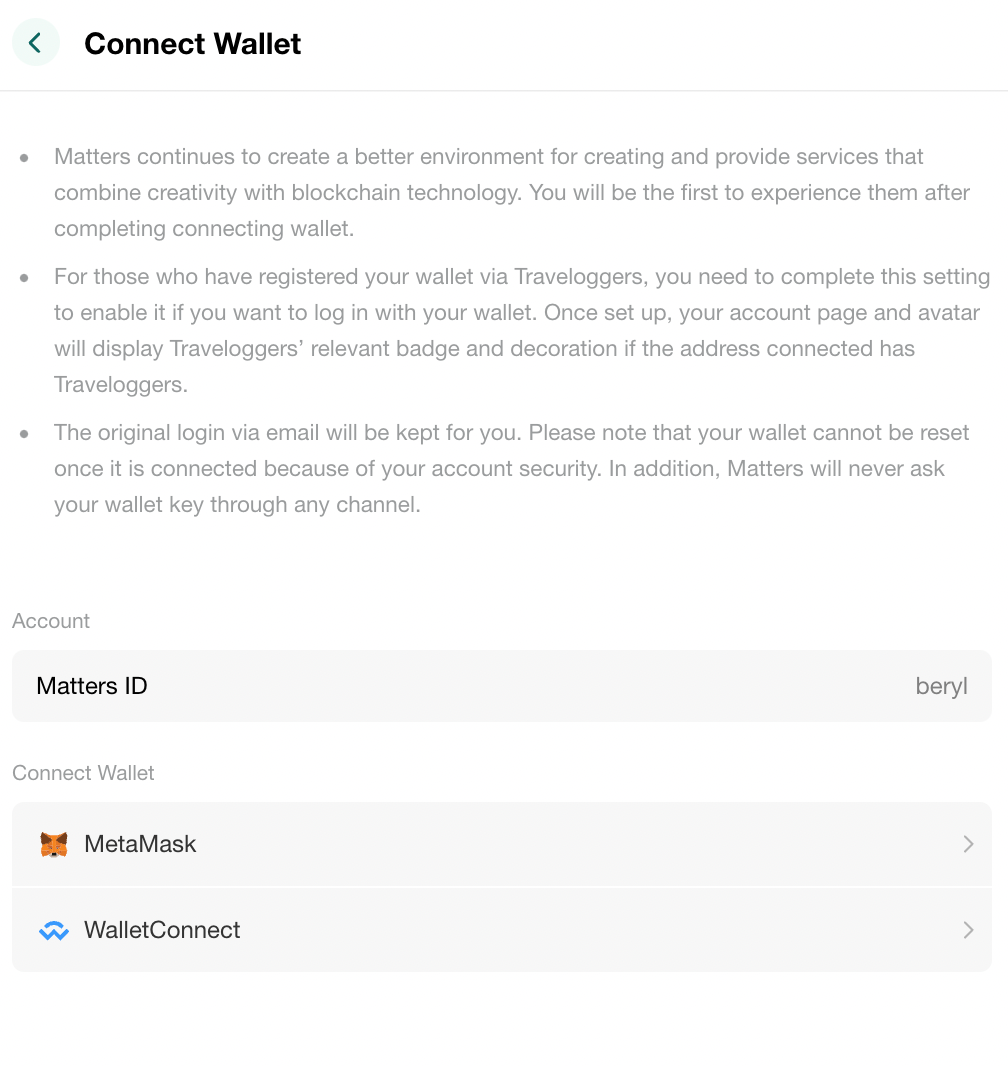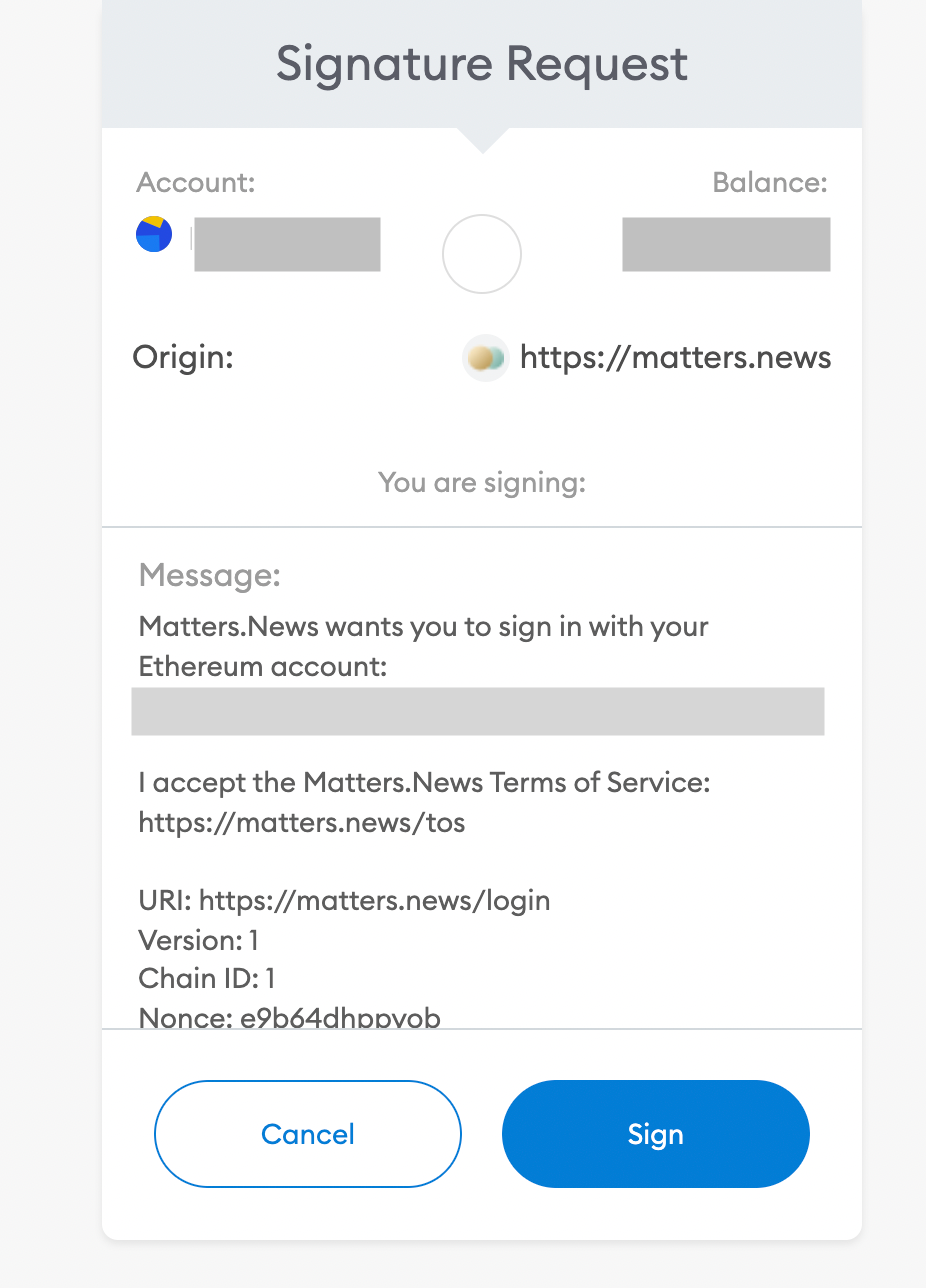 Click "sign up," and you've successfully registered!
Please note: Encrypted wallets are the only way to verify your identity on Matters.News at this time, so please protect your wallet key, and Matters will never ask for your private key.
Enjoy connecting your Matters accounts with the wallet.
Like my work?
Don't forget to support or like, so I know you are with me..