How to Write an Analytical Essay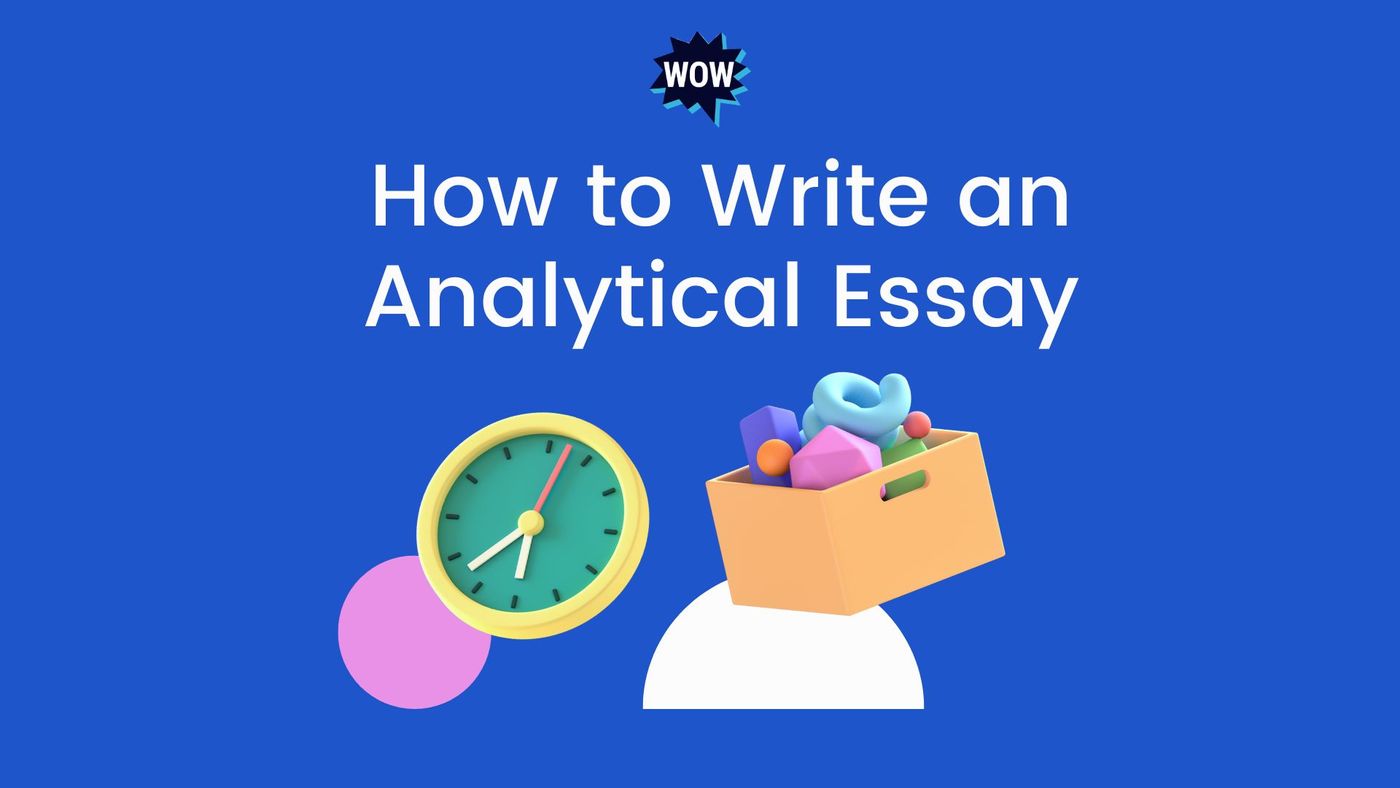 You'll need to follow a few basic steps to know how to write an analytical essay. You'll need to know the basics of how an analytical essay works and what topics you can use. You'll also need to know how to create a comprehensive outline to help you organize your ideas.
What Is an Analytical Essay?
An analytical essay is a type of writing that focuses on clarifying the author's arguments. The essay aims to illustrate how the author uses rhetorical devices, literary elements, and other elements of the work to build up their argument.
This type of writing requires a lot of critical thinking. The writer should present the data logically, making it easily understandable to the readers. The author should also demonstrate a deep understanding of the topic.
The writer should follow the guidelines provided in an outline. The outline will help the writer organize their ideas in a logical order. It will also make the content more presentable.
An analytical essay usually contains an introduction and three body paragraphs. The first paragraph should contain a thesis statement that defines the essay's main point. The other two body paragraphs should contain evidence and facts that support the argument.
Analytical Essay Outline
An analytical essay outline is a great way to help you plan and structure your work. Using an outline will make writing the essay a lot easier. Having an outline will ensure that you're not missing anything. Besides, a well-structured outline will help you read and understand your essay better.
When planning an analytical essay, the first thing to do is choose a topic. This is important because an interesting topic will help engage a wide audience. An interesting topic also allows you to use statistics and facts to support your point.
Once you've selected a topic, you'll need to analyze the information you've gathered. This is a time-consuming task. Once you've finished analyzing your research, you'll need to formulate a thesis statement. Your thesis statement should clearly state the main points of your essay.
You'll also need to include some evidence in your analytical essay outline. This will help you prove your argument, so provide solid evidence to support your point.
Steps For How to Write an Analytical Essay
If you have never written an analytical essay, there are a few important steps to follow to write one well. The most important step is to pick a topic that you know well. A topic that you are passionate about will make the writing process easier.
Another important aspect of an analytical essay is the thesis statement. This is the central premise of the essay and serves as a direction for the rest of the paper. The thesis statement is usually one or two sentences long and gives readers a basic idea of the essay.
The body section of an analytical essay contains three to four paragraphs. Each paragraph should relate to the thesis statement and the argument. The first paragraph should describe the point of analysis, the second should include evidence to support the argument, and the third should discuss the analysis.
A good conclusion should summarize the analysis's main points and reiterate the thesis's key ideas. The conclusion should not introduce new evidence or facts.
Analytical Essay Topics
An analytical essay is an expository writing piece that gives the writer's perspective on a particular topic. It is based on specific facts and arguments. This form of writing requires the writer to analyze the subject from all possible perspectives.
An analytical essay should present a strong opinion on the topic. It should explain the issue and why it is important. It should not be biased. It should be based on solid evidence.
An analytical essay is usually written in a formal style. It is more technical than other forms of writing. To write an effective analysis essay, the author must have a strong topic.
An analytical essay is often about a literary work or a film. It usually uses textual examples to support the main claim. It is also written with a thesis statement. The essay must be written on an interesting topic to the reader.
An analytical essay should also review the creative work. This is a good way to improve your writing skills. It is also a fun way to research. To write a good essay, you need to be inspired by a topic or example of which you can read below:
Like my work?
Don't forget to support or like, so I know you are with me..