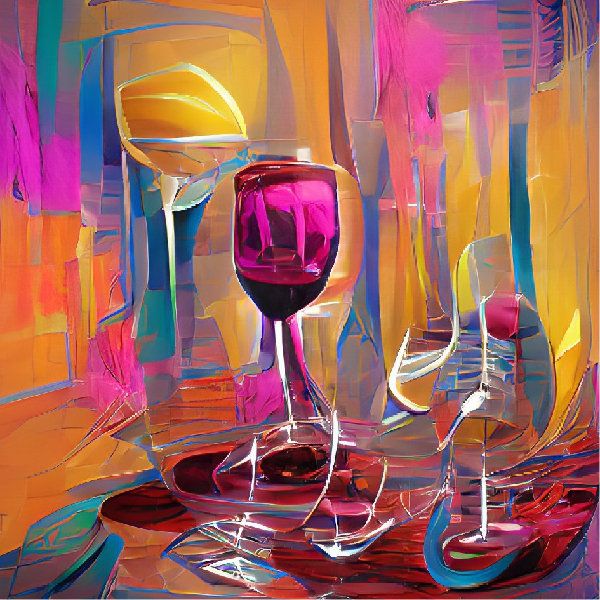 Sogni杯中夢,寫作翻譯詩歌藝術愛好者。 長居義大利,葡萄酒(WSET3認證)和瓷器鑒賞。 AI繪畫和NFT研究中... 个人网站:https://sognineibicchieri.github.io/ 原創小說見:https://www.wattpad.com/user/sognineibicchieri
@特洛伊 你不是一天到晚在自家田里吹牛说你的英语水平高的吗?有本事别光在那里和海峡打嘴仗。我的小说《飞鸟和鱼-序言》的英文版贴在这里,你倒是来给我proofread和review一下啊。说的好自然有赞赏奉上。特殊版权声明:和站点默认设置不同,暂时开放,不分享,版权完全由作者所有。👏同时欢迎任何其他市民朋友点评,proofread和review,后续也会奉上赞赏💰,多谢先❤️。👏
@特洛伊

你不是一天到晚在自家田里吹牛说你的英语水平高的吗?有本事别光在那里和海峡打嘴仗。我的小说《飞鸟和鱼-序言》的英文版贴在这里,也就两千多词。你倒是来给我proofread和review一下啊。说的好自然有赞赏奉上😁。
👏👏👏同时欢迎任何其他市民朋友点评,proofread和review,后续也会奉上赞赏💰,多谢先❤️。👏👏👏
特殊版权声明:和站点默认设置不同,暂时开放,不分享,版权完全由作者所有。
--
Prelude 
The wheel of time hangs o'er the Trailokya,
The cycle of the vicissitudes circles round ad infinitum.
Pity for all worldly children trapped in samsara,
Caught by "things" in profound illusion.
The wheel turns, their fates bind,
Yet they are ignorant, lost in confusion.
Alas for mankind's offspring, drunk on desires,
Lost in fantasy midst earthly fires.
Greed, hate and delusion - the Three Poisons persist,
Regardless of sages and follies.
Love, fame, and fortune - the fleeting dreams drift,
Life floats by, Like fluffy catkins.
The Three Ages of the Dharma have no end,
How would suffering cease to exist?
Not envy those who awaken first,
Left alone only with shadows of their own.
Bounded by blood and destiny,
Blessed connections gather across miles.
Defend justice and humanity,
Fight through the Nine Circles of Hell.
Chest boiling with zeal and ardour,
Destiny, what can it do?
Embrace true loving kindred,
Laugh as the stars spin and shift.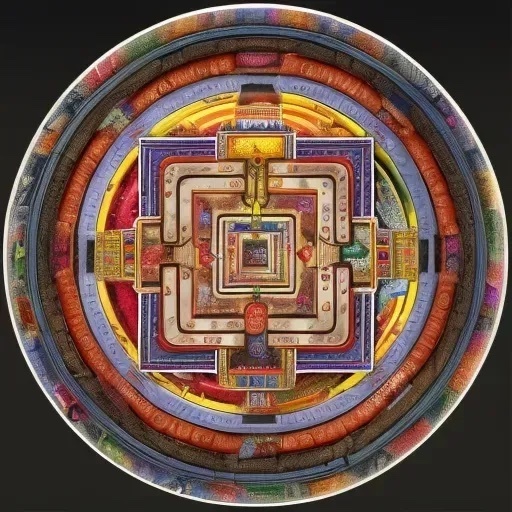 Midnight, 2010, Chinese New Year.
"Six, five, four, three, two, one!" The new year's countdown had just ended.
Amidst the din of bells, firecrackers and cheers, a thick, heavy antique redwood bookshelf cracked and silently slid open down the middle, revealing a spacious secret chamber. Outside the window, snowflakes drizzled down gracefully.
Although the lights were off inside, the deluxe neons on the Bund shed dazzling colors, reflecting bizarre patterns into the room. The Oriental Capital of commerce and fashion was even more magnificent on New Year's Eve under twinkling lights, living up to its nickname of "the Magic City".
This building was located behind the Customs House, whose iconic Gothic "Big-Ben like" clock tower seemed within an arm's reach, nestled among the motley mix of varied remarkable historical architectural styles lining both sides of the Huangpu River.
Few knew that the top floors of the building were actually the secret private residence of a certain lady, who had many friends in high places. Those who came and went were so-called "VIPs". Cars would go through a private passage to the private underground garage, with a private elevator going straight up to the top floor, allowing the VIPs to come and go unseen by others. Security was tight, amenities luxurious, services complete, a safe haven for countless "strategic" decisions and numerous other unspeakable exclusive extravagances.
It was as if cut off from the outside world, unaffected by the biting cold. Warm air continuously flowed in from concealed vents, maintaining a constant temperature of 25 degrees Celsius through air circulation and exchange.
In the dark, the figure was calm and poised. The skintight black , concealing every strand of hair, allowed her to blend into the surroundings. She knew that the esteemed guests here had all gone home to celebrate the New Year tonight, and this was a restricted area for security, perfect for her to operate unhindered. She raised her eyebrows, eyes shining behind her glasses as she gazed at the secret room that just appeared, all the images her eyes took in already transmitted out through the glasses.
"My freshly brewing wine still has its green glow; my little red clay stove has just blazed up slow. It's late and it started to snow, will you join me for a nightcap? O, please don't say no…" A message popped up in the top right corner of her glasses. She frowned, a flash of annoyance in her eyes. The message was from the most important person in her life. "What is this little girl up to?" she thought.
"What are you doing? Aren't you in San Francisco?"She spoke wordlessly. The glasses converted the vibrations from her cranial and facial muscles into text displayed on the lens. With a mere gesture of her finger, the words disappeared as if blown away by the wind, leaving only a tiny "sent" icon.
"We're in a taxi, just left the Airport."
"What about the two elders?"
"Right next to me, the poor thing that's caught in the middle:-(. Both are anxious to get home."
"C U at home."
"Ok!"
"Change of plans, SS proceeding NOW!"
"Copy," a clear confirmation came from the earpiece.
She swiftly regained her detachment. As usual, quietly chanting in the background of the earpiece was her favorite The Song of the Stormy Petrel:"High above the silvery ocean winds are gathering the storm-clouds, and between the clouds and ocean … " A ringing female voice rose and fell.
Outside the French windows, dark clouds piled up over the broad river, with snow blanketing the sky. She suddenly sprang into action, swifter than a black stormy petrel darting into the dark chamber.
"The storm brewing over Magic City will be even more stirring than this one in nature!" She stood atop the empty elevator shaft, like a sprite, a haughty black sprite amidst the blizzard. "Let the storm rage in all its fury!" she dove down headfirst. Her mission here was done, others would follow up to take care of the shakedown.
Chu Na had changed into comfortable house clothes, snuggling up in the sofa with laptop in hand. Traces of melting snow still curled her short black hair. The soft yellow light from a floor lamp in the corner cast a gentle warmth, softening her resolute jawline.
The background audio from the speakers was still the same female voice chanting, but this time it was a more soothing piece from Walden: "Sometimes, on Sundays, I heard the bells, the Lincoln, Acton , Bedford, or Concord bell, when the wind was favourable, a faint, sweet, and, as it were, natural melody, worth importing into the wilderness..."
Although to most people, the reciting female voice may have sounded slightly too crisp and childish, not sweet enough. To her, it was the sweetest sound in the world, that she could never get enough of, always intoxicated by it.
In June 1999, the final month before the high school entrance exam, she was very unlucky to catch the pinkeye disease. Her eyes were swollen red like balls, barely able to open at all. To help her prepare for the upcoming mock Chinese test, her little cousin Uki read aloud and recorded on tape the entire 3 years of textbooks and reference books. She studied along with the tapes with eyes closed and scored excellently.
From then on, those 20 tapes became her treasured possessions. She made multiple backups, and later converted them to MP3 to carry with her all the time.
The doorbell rang and she leapt up to answer it. She was not small for a woman, standing at about 173 cm tall. Gaps in her loose causal clothes hinted at her proportional yet slender limbs and athletic physique.
"Auntie..." before she could finish, Uki's mom already tightly grabbed her arm.
"Little Nana..." tears were welling up in Uki's mom's eyes.
She had never been a fan of sentiment or physical intimacy. Perhaps in this world, only intimate physical contact with these three people here wouldn't freak her out.
"You've lost so much weight after months away from home," Uki's mom murmured.
She dreaded scenes like this and quickly turned to Uki's dad for help, "Auntie, I'm fine. Um, uncle, come on in, I ordered eight dishes, one soup and one eight-treasure rice from the restaurant we often go to down the street; they'll deliver soon."
"There you go fussing again. We should be happy seeing each other on New Year's Eve, not nagging at the door annoying the neighbors. Hurry up, let's go in and get ready for our big reunion dinner." Uki's dad, while gently patting his wife's back, stepped forward to tightly clasp Nana's other hand. "Little Nana...good girl. As long as you're alright, as long as you're alright..." patting fondly her hand again before guiding his wife inside.
"Come help me with the luggage! We brought back half the department store for you!" Chu Uki waved dramatically from behind a pile of bags, glasses askew on her nose. Her petite nose bridge simply couldn't keep the glasses up; they were always slipping down.
"Travelling with parents while having the obligation to entertain them is absolutely hard physical work!" Uki popped her head out of the bubble bath, exaggerating her complaint, "Luckily I impersonated you back then to withstand your mom's endless objections and installed this huge tub first, otherwise how could we relieve all this fatigue?!"
Nana ignored Uki, knowing she was just playing melodramatic. Leaning back against the opposite end of the tub, she slowly raised the tea cup in her hand, eyes closed as she deeply inhaled the faint scents of chamomile. She took a small sip, the rich Assam and delicate Italian bergamot cedar rolled over her tongue, spreading through her mouth, then slowly permeating her being as she swallowed.
She smiled, when it came to tea, Uki was still as picky as ever. If not for years of duck-stuffing brainwashing, she wouldn't know what Assam or bergamot was, much less an essential oil and sea salt bubble bath.
"Weren't you guys supposed to spend New Year's in the US?" Nana asked.
"Yeah, only because my speech was originally scheduled for today. I brought them with me to the US for you. If I wasn't there, you spending New Year's with those two?! Haha, just now you barely lasted 2 minutes."
"True."
"Little did you know about those two old folks! Three days in the US, the novelty wore off, and they started complaining about everything that wasn't to their liking. As soon as they knew my speech was moved up, they pestered me to change flights. I had to battle my way to the airport right after finishing, rushing to meet up with them. Luckily it was smooth sailing, and we made it back to spend New Year's with you."
Uki reached over to tickle Nana's feet, shamelessly using it as a headrest, "They really just missed you..."
"I know..." Nana simply acknowledged, a brief silence falling over the bathroom. It had always been this way between them for twenty-one years, one talking, the other listening.
"So quiet, as if you could hear the sighs of snowflakes landing," Uki murmured dreamily.
"Less artsy nonsense, we have to thank the firework ban for that." Nana didn't blink, reaching to scratch Uki's foot. "It's late, you've been soaking for half an hour already. Come wash my hair so I can go to sleep."
"No wonder it didn't feel like New Year's this year!" Uki giggled and splashed, evading for a good while before finally dragging herself out of the bubbles over to the shower head.
From their first New Year's Eve together since Nana started staying at Uki's family, washing Nana's hair became a tradition for Uki on New Year's Eve.
Uki's mom was a firm believer in the ancient tradition of "sweeping out the old and welcoming the new". She was determined to sweep out all the "bad luck" and "misfortune". The Super Spring Cleaning was far more than just racking and dusting.
Mom usually started dismantling beddings and curtains, scrubbing utensils, wiping down rooms and cabinets, brushing away dust and cobwebs, undertaking a thorough deep clean starting from the 23rd day of the last lunar month. This "old" naturally included dirt on everyone from head to toe, so the final important task on New Year's Eve was always a big personal hygiene cleanse.
Back then they still lived in the old house with a communal kitchen. Having a private bathroom and water heater felt like a distant dream. But this didn't faze Uki's mom one bit. Mom prepared three buckets of cold water, three hot water bottles, two freshly sun-dried bath towels neatly folded, two wash basins, a large tub, and a new bottle of REJOICE 2-in-1 shampoo she steeled her heart to buy just for New Year's, as REJOICE had just entered Chinese market then. She was set to bathe and wash the girls' hair, scrubbing off the grime.
Who knew Nana would keep dodging and struggling, refusing to let Mom wet her hair. It wasn't until Uki held her hand and soothed her that she reluctantly lowered her head over the basin. Under Mom's guidance, four-year-old Uki independently completed the whole process for Nana, from wetting her hair, massaging in shampoo, rinsing, to drying. Mom would complain afterwards about Uki's measly salary, haughtily saying Uki might as well go work at a salon washing hair.
Twenty-one years, Uki handled almost everything else like a small piece of cake, but washing Nana's hair remained something she did solemnly, gently, and attentively every time, like performing a ritual.
The roar of the hair dryer stopped. Uki proudly inspected her work, having sneakily plucked out a stray white hair on Nana's scalp. "All done!" she said, satisfied, patting Nana's shoulder, "Up you go, my turn now. Here comes the Evil Queen!" She then turned the hair to its maximum setting, blowing wildly at her own head as her locks flew about chaotically, another one of her traditions.
Nana shook her head, thinking she'd probably keep playing this self-entertaining game until fifty. As she got up, she said, "Hurry up, or I'll fall asleep in your duvet while warming it for you."
Uki suddenly dropped her smile, turning off the hair dryer as she said softly, "Hold on, Sister Na, serious matter. I didn't just reschedule to get back early for you."
"Oh..." Nana didn't reply, just settled back down silently waiting.
Uki grabbed her phone from the tea table, did a few taps, and handed it over. On the screen was a photo of a poem written on a piece of ancient style paper:
A beautiful Ferghana horse took thee WEST,
SOUTHERN red beans sent my longing,
EAST wind and fledgling swallows brought good news,
Heroes returned in triumph from the NORTH.
"Zoom in and look closely at the pattern in the bottom right corner!" Uki prompted.
"Is this real? Where did you get this?" This time, even the usually placid Nana couldn't help but lean in for a closer look: it was the Dual-Dragon and Bow-Arrow Seal they were both familiar with!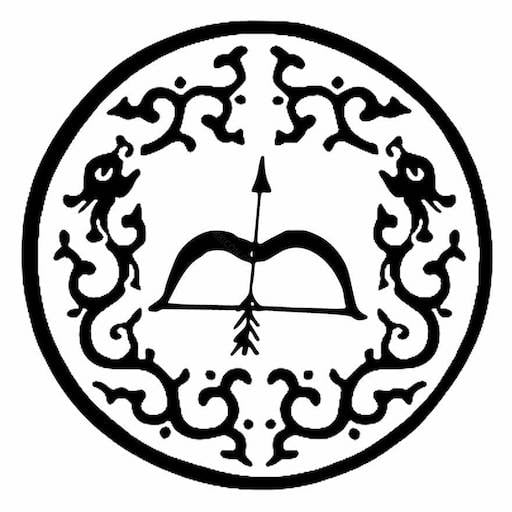 特殊版权声明:和站点默认设置不同,暂时开放,不分享,版权完全由作者所有。
Like my work?
Don't forget to support or like, so I know you are with me..