BitYard is one of the world's well-known and leading cryptocurrency contracts exchanges. BitYard is headquartered in Singapore and offers easy, fast, and safe cryptocurrency asset trading services in over 150 countries. BitYard broker is regulated by the American Money Services Businesses, Singaporean accounting and Corporate Regulatory Authority(ACRA), and the MTR of Estonia for the European Union. BitYard also operates in Southeast Asia and caters to the digital asset market concerning government-backed blockchain technologies. Although, read this BitYard review further and learn more about the exchange platform in detail.
BitYard Exchange Summary
Official Websitehttps://bityard.com/HeadquartersSingaporeFound in2019Native TokenBYDListed Cryptocurrencies30+Trading Pairs50+Supported Fiat CurrenciesAUD, USD, EUR, GBP, CAD, JPY, CHF, NZDSupported Countries150+Minimum Deposit5 EOS and 0.002BTCDeposit FeesFreeTransaction Fees0.075% to 0.05%Withdrawal FeesOMINI-5.92USDT, ERC20–6USDT, TRC20-0USDTApplicationiOS & AndroidCustomer SupportOnline Email Support, Live Chat, Social Networks, & Help Center Support
What Is BitYard?
BitYard was established in the year 2019 in Singapore, which is considered an Asian Technology Capital. Various BitYard reviews suggest that BitYard has a reputation of being a world-leading, well-known crypto contracts exchange, and its business philosophy is a "complex contracts simple trade." It aims to simplify the complex trading experience for its users by offering several trading tools for their benefit.
The BitYard brand concept is "BitYard = Simple", and their concept is "BitYard is best for novices" for their customers. Further, this exchange offers an easy to use interface, and the trader does not have any problems or barriers to enter this platform; also, it offers a competitive trading fee for its customers.

BitYard Platform Interface
One of the major advantages of this platform is that the traders can place trades that can be as low as 5 USDT or that can be as high as 20,000 USDT, accompanied by a 0.05% interest rate in the trading exchange industry. The trader should know that the higher the market risk, the higher will be the reward. It also offers leverage starting from 5x-100x, which is considered one of the advantageous features offered to its clients.
BitYard offers simple, secure, and digital contract transaction services, which is very fast for its traders. Recently it had acquired a brand ambassador, Buakaw Banchamek, a Thai boxing champion, to promote its services. It is one of the exceptional ideas where no other crypto trading platform has a brand ambassador to promote its products. The main aim of acquiring a branding ambassador is to attract traders from their home country and several other regions.
General Features of BitYard
Some of the worth mentioning features of BitYard are discussed below:-
BitYard follows its concept of "Complex contracts simple trade" philosophy, and its main objective is to bring a simplified trading experience to its traders.
Some of the products offered by this broker are leveraged trading instruments on various cryptocurrencies. Compared to other brokers like BitMEX, BitYard offers more simple tools, and their unique contract offerings help the trader place the trades without much stress.
Opening an account with BitYard is simple and easy; the trader needs only to register with an email address or mobile phone number. They can be registered within 30 seconds to become a customer.
Presently, this broker supports major digital currencies so that the user can use them as an asset. Also, the Indonesia Rupiah (IDR), Vietnamese Dong, and the Renminbi are supported by this broker. BitYard has plans to add several fiat currencies shortly.
Compared with other contracts exchanges, which are very difficult to navigate and require the traders to be familiar with several features to use the platform, BitYard user interface and its mobile apps are designed in such a way that it is user friendly to its traders.
Depositing funds in the trader's account is very easy, and this broker accepts trading with 16 different coins.
One of the most advantageous features of BitYard is it is considered one of the very few leveraged cryptocurrency exchanges regulated by authorities, and it holds regulatory licenses. These licenses are from Australia, the USA, Singapore, and Estonia.
BitYard provides its services in more than 150 countries even though it was launched last year. Further, their website has been translated into 8 various languages to help its clients from different parts of the world. It also offers a system that allows the transferring of funds among superiors and subordinates that are facilitated by the agents.
This broker offers its support when the user is investing and trading in cryptocurrencies. This platform supports trading in cryptocurrencies and OTC. By offering the concept of "safe, easy, and fast "it makes sure that it delivers as per their concept. Several crypto trading platforms do not support and do not allow new traders to trade in the cryptocurrency market. Considering this, the broker offers a platform that is easy to use and navigate, even for a new trader.

Why Choose BitYard?
BitYard Regulations
As we are already aware, very few regulated exchanges fall under one or two jurisdictions. But BitYard falls under 4 jurisdictions which show its regulatory status, where the traders can use it without any worries. For traders who are looking for an easy and simple to use contract exchange platform, BitYard stands first in offering its services to its traders. The following regulatory authorities regulate this broker:-
Australia's AUSTRAC
The American Money Services Businesses
The MTR of Estonia for the European Union
Singaporean Accounting and Corporate Regulatory Authority (ACRA)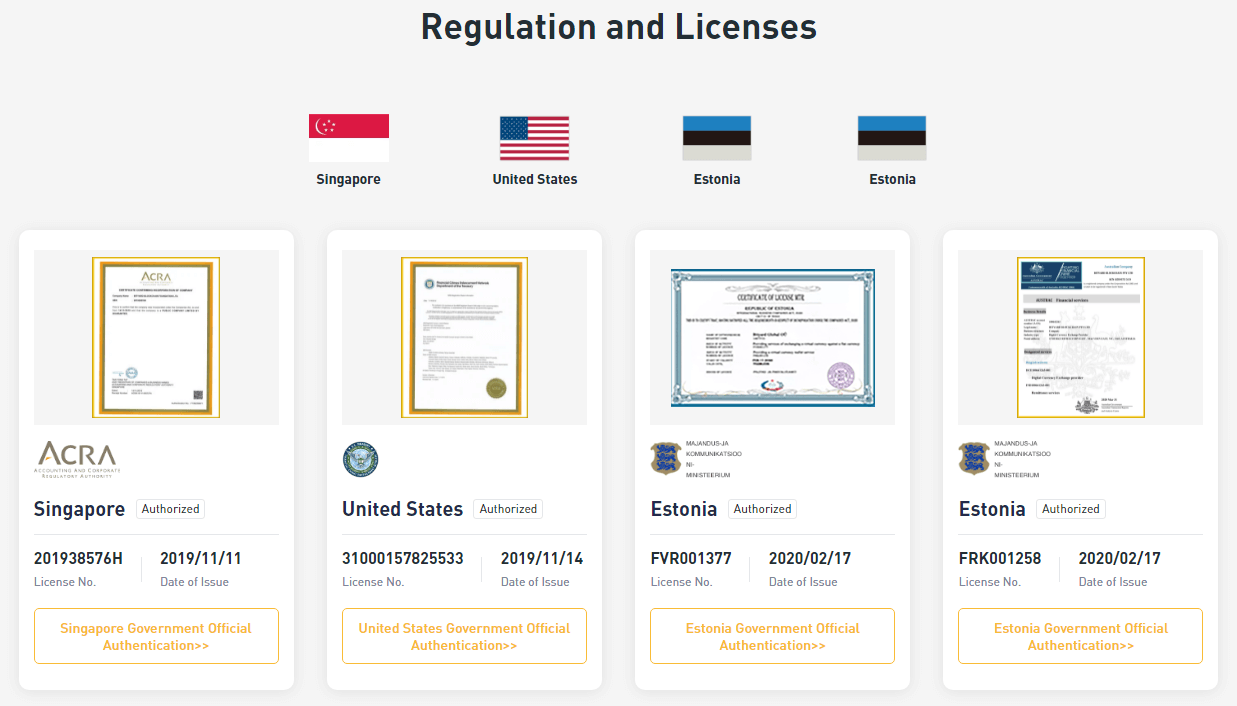 BitYard Regulation & Licenses
Additional Features of BitYard
BitYard has its global presence, and it is regulated by top-tier regulators, and has its reach in various countries around the world. Let us discuss a few additional and unique features offered by the platform:-
This broker supports trading in cryptocurrencies and OTC (over-the-counter).
This broker offers KYC authentication for the safety of the traders.
It requests multiple offline signatures.
Offers cold storage of crypto assets.
This broker comes with a full refund warranty.
As a part of promotional campaigns and affiliate programs, this broker offers free coins for its users.
It offers a mobile app that is compatible with iOS and Android devices.
Its risk management features include stop-loss and take profit potentialities.
The fees for transactions are just 0.05%, and it also offers an option to detect mining fees for reducing it further.
This broker offers an account that demonstrates and helps the traders to familiarize themselves with the platform.
Advantages of BitYard Exchange
Let us discuss a few advantages offered by BitYard:-
The BitYard brand concept is "BitYard = Simple", and this platform offers a beginner-friendly interface and tools for contract trading. This permits the traders the ability to trade with leverage, even though they do not have any previous experience in trading. Moreover, it allows the traders to generate income by way of the daily mining program.
BitYard allows the traders the maximum withdrawals of USDT 100,000, which is considered a higher amount than its competitors. For traders who are looking for a wide choice of digital assets, this platform offers 16 asset options, when compared to 8 options offered by its competitors.
Even though there are various crypto derivatives online trading platforms available in the market, they offer advanced tools for experienced traders, and their user interface and operations are very complicated for new traders. As we have already suggested, BitYard's user interface is designed in such a way that it is simple and easy to use for new traders. Besides, it has not added so many functions that might overpower the new traders.
It offers seven deposit options than any other contract exchange. It offers OTC services for traders for buying USDT with very low trading fees, which apply to institutions and new users.
Furthermore, it takes the trader's funds' security very seriously by employing several safety measures such as KYC for deposit only, multiple offline signatures, anonymous trades, real-time risk audits, cold storage, complete refund warranty, and several more.
This broker offers exhaustive promotion and client acquisition strategies like for beginners they offer 20% deduction of the trading margin, and some coupons are also available for first deposit.
BitYard vs BitMEX vs Bybit vs Deribit Comparison
PLATFORMBITMEXBYBITDERIBITBITYARDHeadquartersSeychellesSingaporePanamaSingaporeLicense bySecurities Dealer LicenseFinancial Services CommissionMTRAUSTRAC, ACRA, MTR, FinCENTransaction Fee0.075%0.075%0.075%0.05% (The mining reward can be deducted by another 10%)Fiat-currency depositNoNoNoYesSupported deposit currencyBTC5 (BTC, ETH, EOS, XRP, USDT)2 (BTC, ETH)7 (BTC, ETH, XRP, USDT, TRX, HT, LINK)Minimum Margin1 USDT5 USDT0.1 BTC / 1 ETH5.00 USDTNo. Of Assets Options84216Demo modeYesYesYesYesForced liquidationYesNoNoNoMax. WithdrawalNone10 BTCNone with KYC100,000 USDTKYCNoNoWithdrawals > 1BTCKYC for deposit onlyLeverage1-100x1-100x1-100x5x-100xCustomer SupportEmail, TelegramEmail, Online customerEmailEmail, Telegram, Online customerBrand AmbassadorsNoneNoneNoneBuakaw Banchamek
BitYard's BYD Token Details
One of the special key features offered by the exchange when compared with other derivative platforms is that it offers its customers the feasibility to receive BYD the platform token, offered on their daily mining page along with several other cryptocurrencies.
BYD, the platform's native token that can be compared with BNB of Binance, plays a very important role in the BitYard ecosystem, and it is also anticipated to be listed on several important exchanges in the near future, which shows that BYD has great potential.
Currently, this native token can be used to pay some of the trading fees in BitYard, which also gives the traders a discount. Furthermore, the total volume of the BYD token is 210 million, of which 10.24 million has been allocated for the mining program. The traders of BitYard receive 6 BYD when they activate their BitYard account.
BitYard Review: Pros and Cons
Let us see a few pros and cons of this trader:-
ProsCons BitYard offers a simple and user-friendly interface Traders are allowed to withdraw only in USDT It provides the fastest trading engine currently in the industry by offering 1 million transactions per second There is no fiat withdrawal. Traders can deposit 7 major digital currencies It has a KYC process for deposit. Offers demo account for its traders It offers 16 coins for trading currently.
BitYard Account Opening Process
Account opening process on the platform is very easy, and it does not take more than 30 seconds. Moreover, no fiat currency is used on the platform, and hence the stable coin USDT is used as the main currency for the trades. The trader can use the below given seven digital currencies for the deposits such as BTC, XRP, ETH, TRX, USDT, LINK, and HT, which is considered as high when compared to several other crypto contract exchanges.
BitYard's platform is available in 8 various languages such as English, simplified Chinese, Russian, Traditional Chinese, Korean, Vietnamese, Indonesian, Japanese, and Portuguese, clearly targeting the Asian customers that are based on the languages they offer for its customers.
For signing up on the trade platform, the trader needs only an email address or a mobile phone number; with this, they can be registered on the platform within 30 seconds.
The user needs to go to the registration page given on the website, and once it is done, a personalized BitYard wallet is assigned, and they can start trading immediately.
Among the various advantages offered by the platform, their simple registration process is very easy and stands out when compared to other cryptocurrency exchanges that require several amounts of information and a verification process. This platform helps the traders to start trading their first Bitcoin contracts in seconds.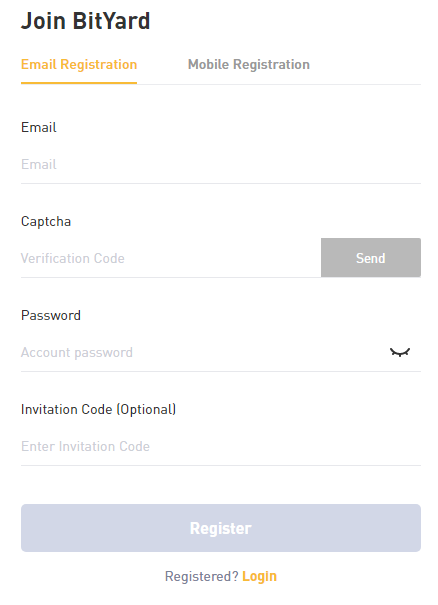 BitYard Registration Process
Demo Account by BitYard
One of the most advantageous features offered by this platform is that it offers a demonstration of the account for its users. By using it, the traders can learn about the trading platform about its key features and functionalities without the risk of using real funds. Besides, it is offered for free, and it does not take time to register an account, and the trader needs not to have to register a separate test account for trading. They can switch between the accounts like a demo or the live account on a platform.
Crypto Contract Trading by BitYard
When the user has added the cryptocurrency as a deposit and cleared, they can check out the incredibly intuitive user interface and experience the seamless BitYard trade experience.
BitYard allegedly claims that it offers a trading engine, which is the fastest, in the trading industry, which matches 1 million transactions per second. As a new trader, they can choose among 5x and 100x leverage, offering the traders the potential to multiply their profits. A bit of caution, higher leverage might also lead to high potential losses if the market positions are not favorable.
BitYard platform's pricing data comes from an external source. This platform uses an averaging price and Kline weighted average approach from several major exchanges such as Binance, Huobi, and OKEx.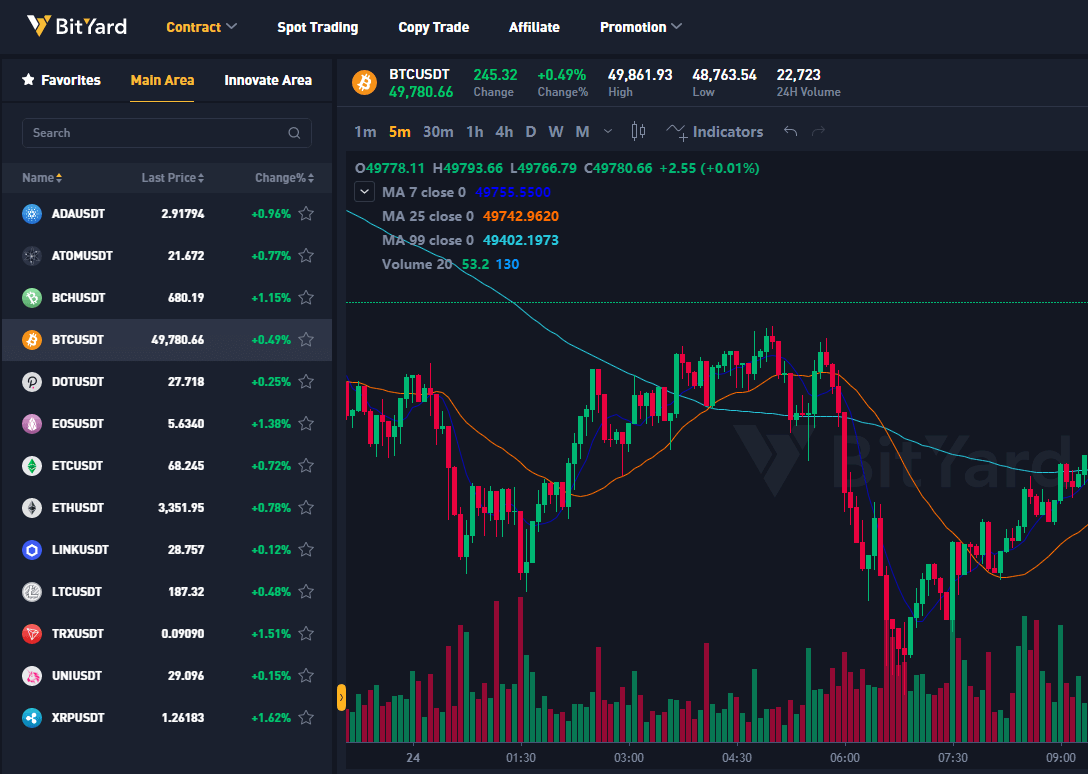 Crypto Contract Trading by BitYard
Advanced Trading Tools
By offering professional-grade TradingView tools and charts integration, this broker enables the traders to analyze their trades over several screens with accuracy by deploying and plotting technical analysis trend lines, viewing across several detailed timeframes, and scouting long positions.
Moreover, this broker also offers various layout switch features that permit the user to change the exchange background color when they are trading in the night or in the day and vice versa. Besides, when the trader is trading Bitcoin with leverage or any other leading cryptocurrencies available for margin trading options, it can be accomplished easily by using the interface's margin tools.
Besides, BitYard offers leveraged cryptocurrency trading 24×7, which offers a significant advantage of zero-based spread fees and constant liquidity. If a trader is looking for Bitcoin contract trading, then they can utilize the advantages of leveraged trading products offered by this platform.
Trading Interface
The trading interface offered by the BitYard platform comes with fully packed features and functionalities and a good user interface. As we have already pointed out, BitYard = Simple, it makes sure that the platform is not too intimidating for the new users. Besides, it offers support for several technical indicator patterns and charting tools.
When you are looking for a best crypto exchange, one of the factors is the platform's trading fees. It is very important to check out the fees and familiarize them with the exchange to execute the trade and make profits.
This broker charges the traders very low fees even for those transactions that are the smallest, such as 5 USDT to as big as 20,000 USDT with a 0.05 percentage rate. It also offers leverage of 5x to 100x.
One of the most Advantageous features of BitYard is it offers a maximum withdrawal limit of 100K USDT, which is the same as BitMEX.
BitYard Fees
BitYard provides one-time transaction fees from 0.075% to 0.05% when a trade position is opened. Also, the reward will be deducted by another 10% if their specific conditions are met. If the traders are used to the normal cryptocurrency exchanges where they charge maker and taker fees, these are not charged by the platform because there is no need for an order book and it provides its trader's the much-needed liquidity.
When you are proceeding with margin and leveraged trading, you can obtain a loan from the exchange. Also, the traders need to pay an overnight fee. This broker does not charge any deposit fees, but you need to pay 2 USDT for withdrawals. To know the full fee structure of BitYard you can refer to this link.
BitYard Deposit & Withdrawal Methods
Deposits
BitYard supports the deposit and withdrawal of funds in cryptocurrencies. BitYard supports the following cryptocurrencies for deposits:-
Bitcoin (BTC)
EOS (EOS)
Ethereum (ETH)
Huobi (HT)
Ripple (XRP)
Tether (USDT)
Tron (TRX)
BitYard traders in Indonesia, Vietnam, and mainland China support the deposit by using fiat currency. For those traders who are located outside of the above-mentioned geography, they need to purchase BitYard supported cryptocurrency to make a deposit. For those traders who already have BitYard supported currencies, they can also make a wallet-to-wallet transfer to transfer the cryptocurrencies. The trader needs to select the best cryptocurrency wallet, which is listed on the wallets page, and they need to click the deposit option.
Withdrawals
For withdrawals, the investors and traders can withdraw USDT, and they can deposit their cryptocurrencies in Tether wallets. This broker does not support withdrawals of fiat currency for a developed market. For making a cryptocurrency withdrawal, the trader needs to locate the wallet from which they wish to withdraw the cryptocurrencies. The trader who is looking to withdraw anything other than USDT, need to convert it before proceeding with the withdrawal.
BitYard Payment Methods
This broker offers an excellent trade platform to support trading in cryptocurrencies by using contracts. Some of the cryptocurrencies supported for trading are BTC, USDT, XRP, ETH, TRX, HB, EOS, and BYD. BitYard platform permits the users to trade and invest in several cryptocurrencies, which are supported by BitYard or OTC. Traders who already have cryptocurrencies supported by the platform can transfer these to their wallets provided by the platform.
BitYard Offerings and Commissions
BitYard offers several offerings to the traders and helps them to earn free crypto coins. Some of them include trading bonuses, beginner rewards, and promotional video contests. Commission from affiliates program offers the traders up to 60% of the trading commissions that are earned through the affiliate program. The traders can find the referral link on the website's affiliate page.

BitYard Offerings and Commissions
BitYard Wallets
This broker offers its users a compatible wallet for cryptocurrencies that are supported by exchange security. Besides, the users can easily navigate on the website to my assets page to view the available wallets.
Types of Orders by BitYard
The order form offered by the platform is very simple, and the traders can use the below-given order types for trading:-
A market order can be placed on the platform where the order is placed exactly as per the market rate. It can also be considered as the latest price that is traded on the platform.
A limit order can be placed not on the market rate but on the trader's price, which will be executed when the price reaches the target. This can be above the sell order or below the buy order.
Benefits Offered by BitYard
Let us see a few benefits offered by BitYard:-
This broker offers an advanced and easy to use crypto trading platform for its users
One of the major benefits offered by this broker is it offers an affiliate program where 60% of the commission on the BitYard fees is offered through the program.
It also provides traders with interactive technical charts to support the trading and enhance their portfolios. The interactive charts are available on the website trade page.
This broker offers a customizable layout for its traders and investors. Also, they can customize the charts to meet their trading requirements.
BitYard offers a dedicated help centre, which allows the traders to learn the trade and navigate the platform. In the FAQ section, there is a beginner's guide, information, announcements, and various terms section. Additionally, there is also a video section offering traders useful guides to trade efficiently.
One of the major benefits of this platform is that it offers a leverage of 5x to 100x for the traders looking to make more profits.
BitYard trading platform offers a mobile app for trading. This app is available on the Google play store and APP store to be downloaded for those traders who want to trade on the go.
The platform offered by BitYard is very simple, and it can be used by new traders who do not have any experience in trading cryptocurrency.
This platform offers risk management capabilities to counteract market risks, which includes stop loss and take profit options.
BitYard Affiliate Program
BitYard provides several ways for traders to profit by trading on the BitYard platform. Using an affiliate system, the user can become a business partner on the exchange and can earn up to 60% of commissions on BitYard's trading fees generated by the people they have referred to the platform. Furthermore, the affiliate system is very easy to use and transparent. The traders can make a profit by referring their friends to the platform.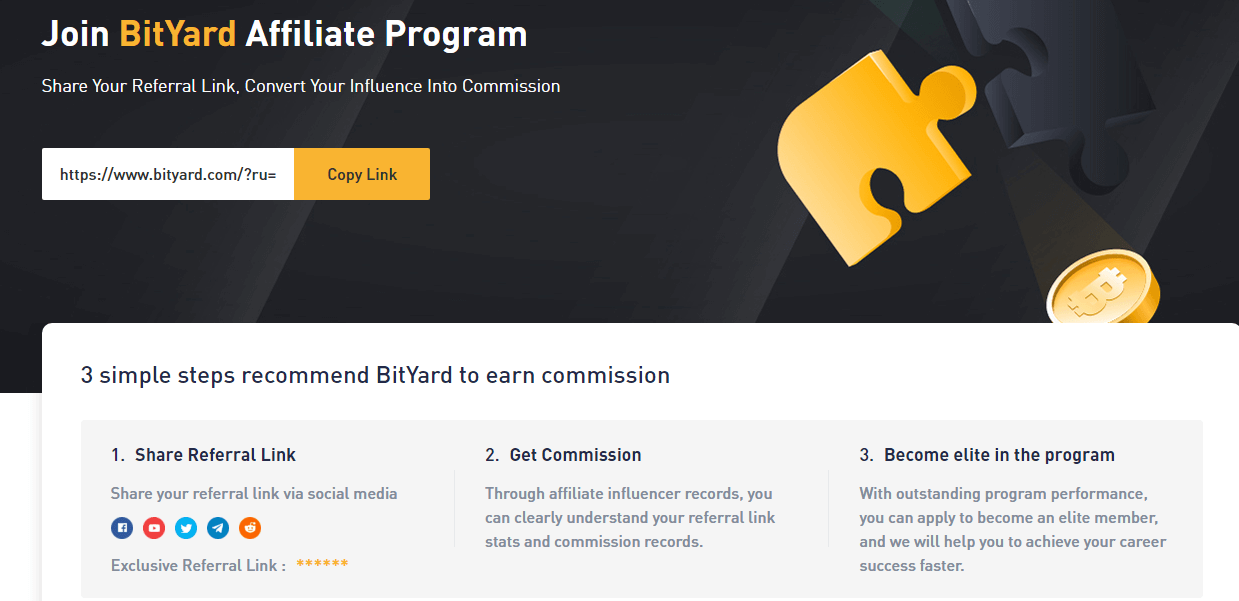 BitYard Affiliate Program
One of the ways to make money on the trading platform is by receiving BYD, which is the native token issued by the BitYard platform, which plays a very important role in its system. BitYard has plans to list this BYD token in several exchanges shortly. This token has growth potential similar to the BNB token of Binance. BitYard gets its pricing data from the three major spot trading exchanges, such as Binance, Huobi, and OKEx, to accurately enhance the market price. When compared to other platforms, this platform does not impose its spread to its traders.
BitYard KOL (Key Opinion Leader) Program
To compete with bigger exchanges in the cryptocurrency sector, BitYard offers a dedicated KOL (Key Opinion Leader) support program, which is backed by a rewarding incentives framework. This broker offers a 40% commission to their KOL partners, which implies that KOLs receive a daily salary that is proportional to the number of users introduced by BitYard. Further, these invitation rewards can go up to 100 BYD per month.
KOLs can also earn 3 months of invitation bonus, and those who are qualified KOL by achieving standard trading volume in 3 months are rewarded with an additional bonus. KOLs who recommend other KOL prospects to this platform are also rewarded with another profitable bonus. Also, a daily payment is offered to those who have higher trading volumes from their reference, which can stretch up to 15 USDT daily.
Additionally, KOL offers 5 support plans:-
Minimum 40% rebate
Daily salary for KOL
Every active user bonus in the first 3 months
Bonus for upgrading to a qualified KOL
Bonus for a recommendation of KOL
Bityard Review: Security Measures
BitYard uses SSL technology and offers a high-level security environment for protecting investor assets and the trading platform. For security reasons, BitYard requires its traders to have a pin set for making any withdrawal from the BitYard trading platform. Further, the trader needs to enter the pin every time to make a withdrawal.
Another most important feature is SMS authentication. The user needs to set an SMS authentication. They must enter the verification code if they want to make a withdrawal, reset passwords, or if they want to make any changes to their BitYard account security settings. To set an email verification, the trader needs to enter the verification code if they want to make withdrawals, reset the passwords, or make any changes to their account security settings. The users can review login records, and these enhance the security settings and report for any unauthorized hacking and logins.
BitYard Mobile App
In case if you are not available on the desk and you want to trade on the go, then the mobile app can be used for this purpose. The app offered by the BitYard platform has the same features as that of the desktop platform, and it offers great functionality, just like technical charts. The trader can monitor their positions, and it also offers one-touch order features for its traders. The app of BitYard is available on both Android and IOS, and they can be downloaded from the Google play store and iTunes store.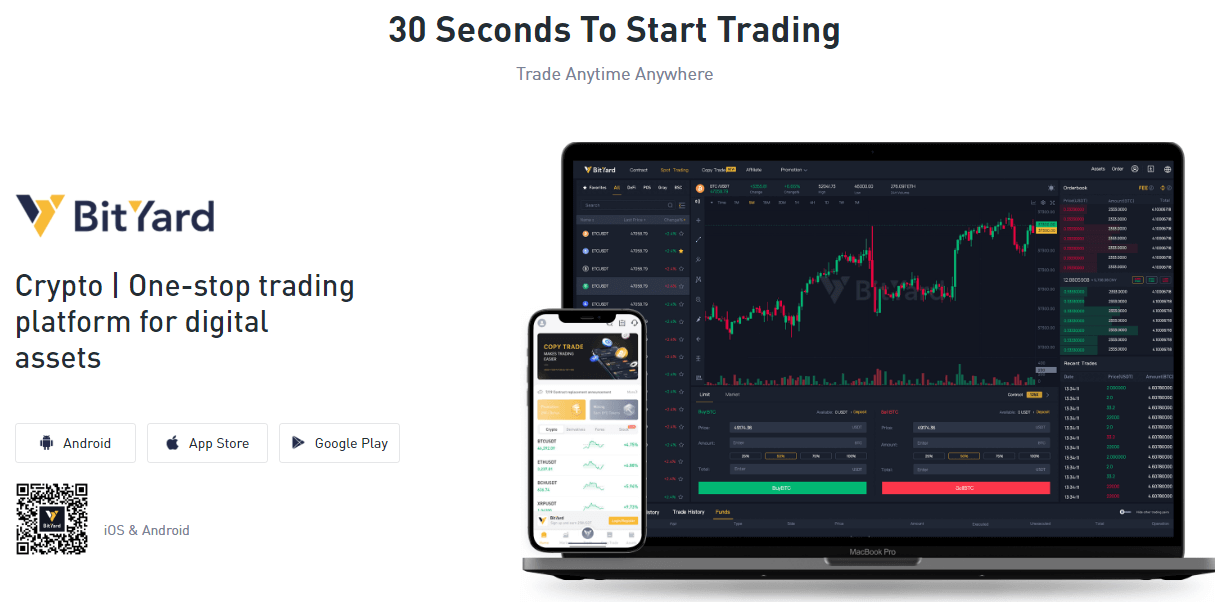 BitYard Mobile App
BitYard Customer Support
BitYard offers dedicated customer support where the trader can contact them when they have issues or problems.
The traders can reach out to the BitYard team through email, telegram, and online support.
By using the online support link, the traders can chat with the robot, or they can request to chat with the representative by simply clicking the support icon on the BitYard trading platform directly.
By offering dedicated customer support, BitYard offers its customers 24×7 online support, where the traders can contact them if they have any problems.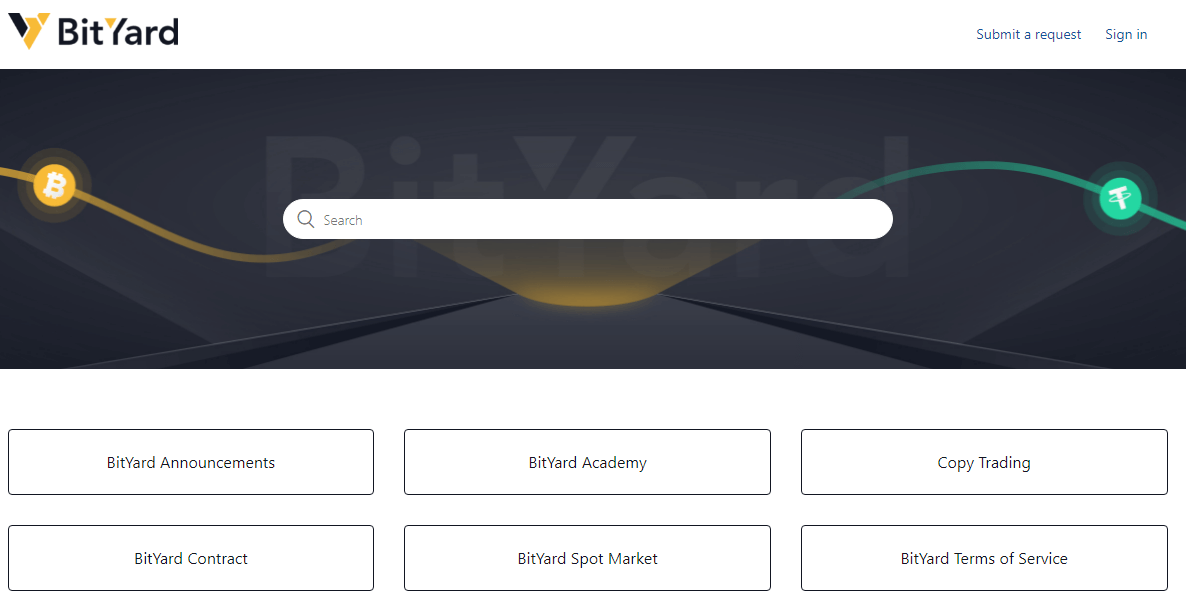 BitYard Customer Support
Wrap Up – Is BitYard Legit, Safe and Secure?
As per our BitYard review and research, we can say that BitYard is considered as a safe and secure platform that can be used for cryptocurrency contract trading, which can be used by new traders. This platform is easy to navigate, which permits traders to trade on cryptocurrencies without using complicated features and functionalities. Any new trader who uses this exchange security can find the platform as one of the best contract trade platforms in the available market, and they can trade much easier by using leverage. Further, it offers several cryptocurrency pairs for its traders.
FAQs
Is There Any BitYard Mobile App?
BitYard offers a mobile app for its traders who want to trade on the go. The mobile app offers various functionalities, and it also offers technical charts to monitor the trading positions and one-touch order features. The app is available on Google play store and App store so that the traders can download it and enhance their trading exchange experience.
Is BitYard Secure and Trustworthy?
BitYard is a safe and secure online trading platform, and it is regulated by authorities and possesses four licenses. Furthermore, this trading exchange platform is licensed and regulated by the AUSTRAC of Australia, the ACRA of Singapore, the MTR of Estonia, and the MSB of the United States by the Financial Crimes Enforcement Network.
Who Is the BitYard Ambassador?
Several leading crypto exchanges do not have a brand ambassador to promote its trade platform and services, unlike BitYard, which helps to promote its platform. This platform has secured a partnership with one of the leading Thai boxing champions, Buakaw Banchamek, who is one of the finest athletes in Thailand.
Like my work?
Don't forget to support or like, so I know you are with me..